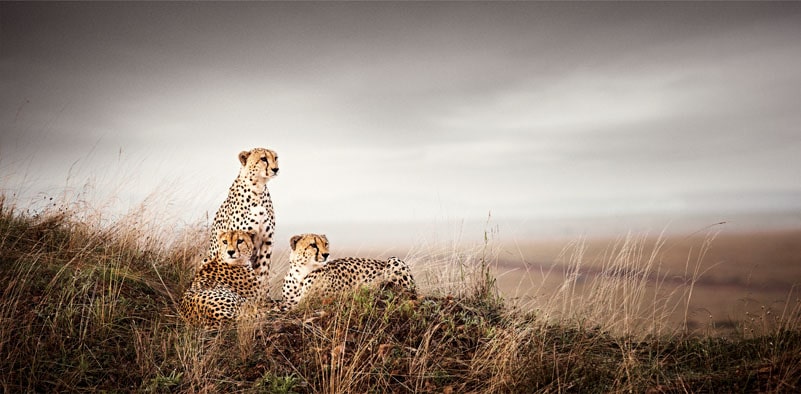 "This morning my guide woke me up earlier than usual. I hadn't slept well. We got into the car and drove towards dusk, still hearing the lions roar in the distance. I was not really up to taking my camera yet but then my guide spotted cheetahs on a little hill nearby. Quickly I changed the lenses on my camera and suddenly I was wide-awake. We came closer and could see three cheetah brothers gathering close together, trying to stay warm in the cold morning. One of them sat up to watch out for prey. It was a beautiful composition that I could not have wished for better. Mother nature had rewarded me for the lack of sleep and I am truly thankful for it! This is a beautiful addition to my collection that I didn't want to have missed." Klaus Tiedge
Exhibitions:
06/2014: Pride of Africa Collection and book presentation at Tantus Galerie, Hamburg, GER
08/2012: Pride of Africa Collection at Gallery Sur, Carmel USA
07/2012: Gallery at Grande Provence, Cape Town, ZA is now representing
Klaus's Pride of Africa Collection and coffee table book.
06+07/2012: Gallery Reis, Singapore, exhibits Pride of Africa Collection by
Klaus Tiedge as a solo exhibition.
03+04/2012: Martin Osner Fine Art Gallery exhibits Pride of Africa Collection and African Faces Portraits.
06/2011: Tantus Photo Galerie, Hamburg, Germany is representing and exhibiting Klaus's works on a regular basis.
03/2011: first solo exhibition at Martin Osner Gallery.